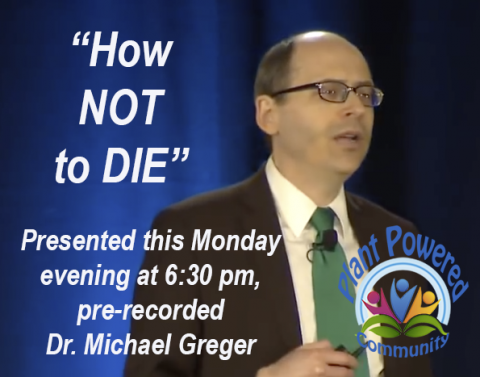 February 4, Plant Powered Meeting: Dr. Michael Greger, presents reasons any rational person would agree with for transitioning to a whole plant diet and healthy lifestyle. 
Join the Plant Powered Community this Monday. Complete the Registration and Health Evaluation forms online at http://ppchealth.org. Pay when you sign in at the Fellowship Hall. Or you may complete paper forms when you arrive.
This event begins at 6:30 pm, Monday evening, February 4, at the Grass Valley Seventh-day Adventist Church, 12889 Osborne Hill Rd, Grass Valley, CA
You or your guest may attend one meeting for free as a Guest. There is a one-time $49 enrollment fee. You will be enrolled into the 4-week Jumpstart that will help you start the transition to a whole foods, plant-based diet.